STORE
---
---
---
---
---
PHOTOS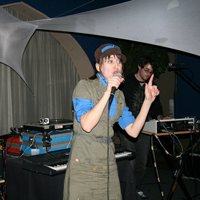 PRESS
Portland Mercury
Dec '13
DJ TAN'T, LONG HALLWAYS, QUIET COUNTRIES (East End, 203 SE Grand) For his new record, Paul Lynch—also known as DJ Tan't—plundered Led Zeppelin's drum tracks from the 1978 sessions for their In through the Out Door album, recorded at ABBA's (at the time) brand-new, state-of-the-art Polar Studios in Stockholm. John Bonham's undeniable beats form the backbone of DJ Tan't's The Bonham Diaries, an eight-song concept album with Lynch overlaying synthesizers on top of the drum tracks via Ableton. It's true that Bonham's drumming casts an immense shadow—"Fool in the Rain" might be one of the few songs in recorded history that anyone on the street can recognize by its drum track alone—but Lynch has created something interesting and heavy, much more than a curio for Zeppelin fanatics. Tonight Lynch plays with drummer Will Hattman, who takes over the drum throne from the late Bonham to provide in-the-flesh backbeats for The Bonham Diaries' live rendition.
-NED LANNAMANN
see article
---
Portland Mercury
Nov '13
DJ Tan't took some of John Bonham's isolated drum tracks from Led Zeppelin's In through the Out Door sessions—done in ABBA's Polar Studios in 1978—and added his own original synth melodies on top. The result is The Bonham Diaries, which Tan't releases it digitally as a free download tomorrow. Take a listen to the album opener, "Day One," which repurposes the very familiar drumbeat from "Fool in the Rain." The result sounds very little like Zeppelin, an admirable feat considering how dominant Bonham's drum style is.
-
NED LANNAMANN
see article
---
Portland Mercury
Jan '13
It's been six years since DJ Tan't (that's short for Tantrum) released Notes of Abrasion, and his new joint Mega Bloks is aptly named. Chunky, day-glo building blocks of sound are clicked and locked together to form thick beats—some that have the elasticity of hiphop and others the rigidity of chiptune. Tan't is the alter ego of Paul Lynch, who's filled the gap since Notes of Abrasion by working on his other projects, (((In Mono))) and Headphone Party. But Mega Bloks sees Lynch corralling a formidable list of Portland talent—including Sophie Vitells, Oh, and the ubiquitous Papi Fimbres—into an album that's playful, bright, and with surprising nuance, like a model city made out of toys that, on closer examination, reveals exhaustive and exacting detail.
-
NED LANNAMANN
---
SEE MORE PRESS HERE
CONTACT
Booking:
djtantmusic@gmail.com
Website By:

L8RB4 Design
---
NEWS
MORE INSTAGRAM POSTS HERE



Here is a new track from the upcoming album "Plastic City"


MORE SOUNDCLOUD TRACKS HERE
SHOWS
---
Shared the stage with
DJ Krush
,
Amon Tobin,
Sixtoo
,
Dosh
,
Sole & the Skyrider Band,
James Pants,
Four Tet
, Busdriver,
Boom Bip
,
Dabrye
, DJ Signify, Ghislain Poirier,
Blockhead
, Dj P-Love,
Plaid
, Luke Vibert,
Chris Clark
, Themselves,
Subtle
, Zion I, Alias & Tarsier, Clue to Kalo,
DJ Vadim
, Jel, Why,
Hood
, Run Return,
Cloud Nine Music
, Elliot Lip, Subtitle,
E*rock
, Copy, Legacy,
Strength
, Spleenless,
Sleepyhead
, Brokaw,
Shambles,
A.E.D, Belly-b,
Quiet Countries
,
Talkdemonic
,
Modernstate
, Prime Meridian, Wilding, DJ Beyonda, Alan Singley,
Pt. Juncture, WA
, Dat'r, Break Character, Long Hallways, The Forth & LASERHAWK
---
SEE ALL PREVIOUS SHOWS HERE
FLYERS